I usually make this galette (which is basically a fancy French name for an open tart, sweet or savory) with fontina, roasted buttenut squash and caramelized onions in the fall. But this week some Shitake mushrooms showed up in my CSA box, along with some beautiful purple and green spring onions and baby garlic, so I though, why not? You can make this with any cheese/veggie combo, but I just think fontina melts amazingly and has a wonderful earthiness and complexity that goes so well with the mushrooms and onions. I make an easy sour cream pastry to put this in.
Pastry:
1 1/4 cups all-purpose flour, chilled
1/4 teaspoon salt
8 tablespoons (1 stick) unsalted butter, cut into pieces, well chilled
1/4 cup sour cream
2 teaspoons fresh lemon juice
1/4 cup ice water
Filling:
5-6 shitake mushrooms, cleaned and sliced
4 spring onions, sliced into thin rounds
3-4 cloves of garlic, finely diced
Salt/pepper
1 cup grated fontina cheese
¼ fine chopped flat leaf parsley
In the bowl of a food processor, combine the flour, salt and butter and pulse in one-second pulses until you have pea size pieces. Add the sour cream and lemon juice, and pulse to incorporate. Add the ice water and pulse just until mixture forms a loose ball.
Turn the ball out onto a cutting board and gently and quickly shape it into a disk, the wrap tightly and chill at least one hour, up to 24 hours. Or wrap again in foil and freeze up to one month. Thaw in fridge before using.
For the filling: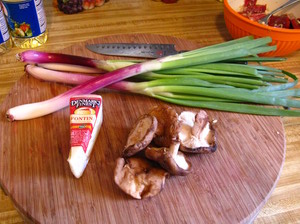 Slice the shitakes thinly and the spring onions into rounds like so: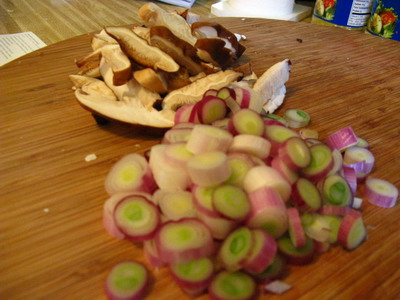 In a medium heavy skillet, heat 1 tbls of olive oil over med heat. Add the mushrooms and a pinch of salt and leave them alone for 2-3 minutes to let them caramelize. Stir lightly and cook another minute or so. Remove these to a small bowl.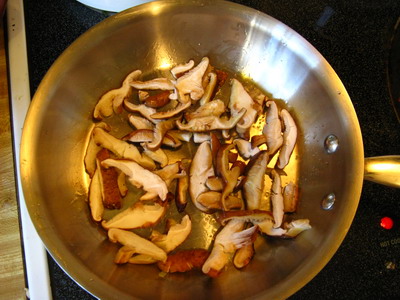 Add a bit more olive oil and cook the onions and garlic over med-low until you have softened the onions, about 2 minutes. Put these in the bowl with the mushrooms, let cool.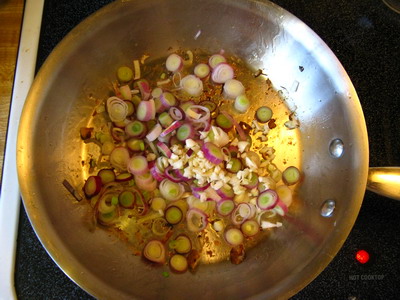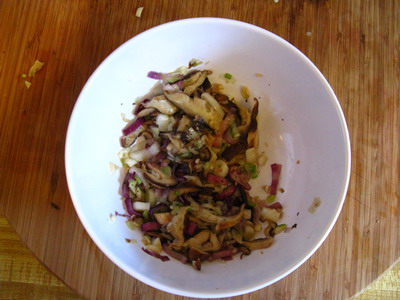 When the mixture is room temp, mix in the grated fontina, cover and let hang out while you get the dough ready.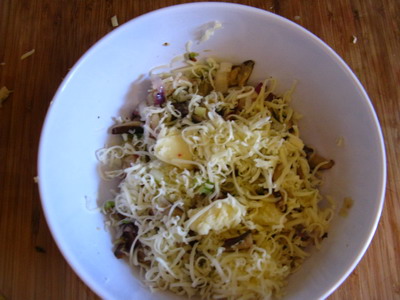 Preheat the oven to 400. Line a big baking sheet with parchment paper.
Let the dough sit out for 20 minutes so it's easy to work with. On a well-floured board, roll out the dough in a circle until it's about ¼ of an inch thick. Work quickly. I have two rounds because I'm making individual ones.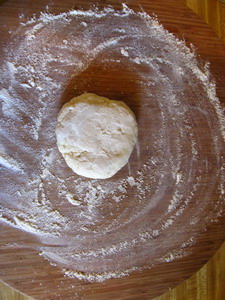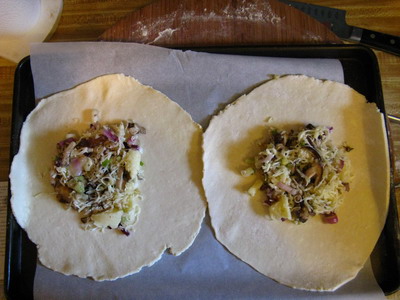 Mound the filling into the center, leaving a good overhand around the edge. Fold the border over the squash, onion and cheese mixture, pleating the edge to make it fit. The center will be open. Brush the pleating with a bit off egg wash or heavy cream.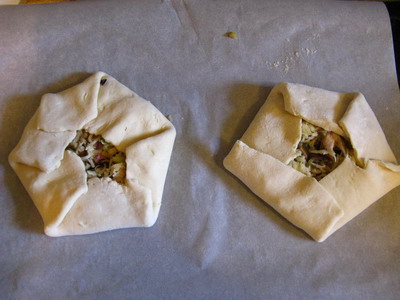 Bake about 30 minutes until the top is golden. Watch it and if it's browning too fast, loosely tent some foil over it to stop the browning. When it comes out of the over, hit it with a sprinkling of the parsley, and serve with a little mixed baby green salad and a Sauvignon Blanc or Viogner-something to echo the grassy notes in the onions and cut the richness of the cheese. Enjoy!