Biscuits And Gravy
In my house, biscuits and gravy rules. J and I have it often when we go out to eat-it's something I've loved since I was a kid. It's actually really easy to make at home. You have to follow a few simple rules…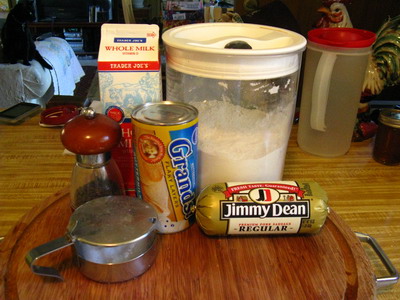 Do NOT use fancy-ass artisinal sausage. Please! Jimmy Dean Original or Hot, if you like, bulk-style only! You'll also need AP flour, whole milk, black pepper, kosher salt and biscuits. Yes I'm using biscuits from a can. You know why? Because I stayed up the night before making homemade jam until 2:00am, and also, I know how to make a proper biscuit from scratch. I have nothing to prove. So if it's easier to use biscuits in a tube, then by all means do so.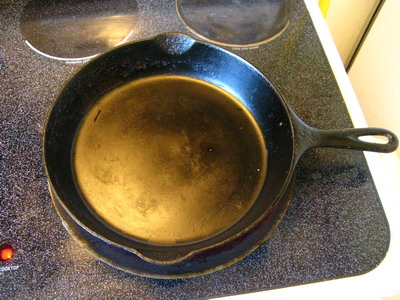 You need a cast-iron skillet. If you don't own one, please go buy one. They're so cheap. This is my grandmother's--it's probably well over 60 years old at this point, and so seasoned it's totally non-stick. It's really not hard to take good care of your cast iron, and it gives food a flavor like nothing else can.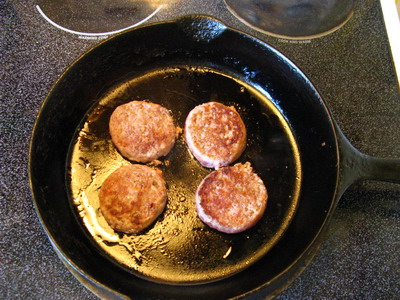 Get you sausage sliced up and lay it out in your pan. I like to do two patties per person. Brown it up real nice (make sure it's cooked all the way through) and take it out and let it drain. You can also crumble up some sausage bits and brown them off--I like to do this. Put your biscuits in the oven at this point.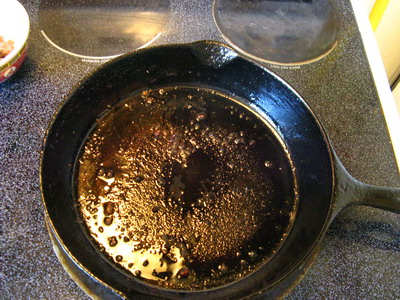 See how much fat you have left in the pan. You'll want 2-3 tbls for 2 people. I don't have enough, so I'm going to add about a tablespoon and a half of butter and melt it together over medium-low heat.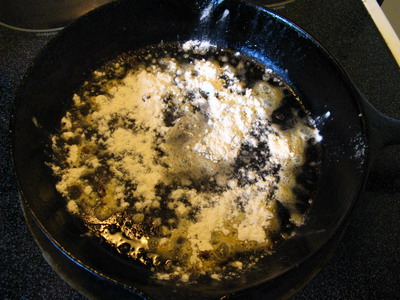 Once your fat is melted, add in about 2tbls of AP flour. Sprinkle it in while whisking constantly and very quickly, or you'll get lumps.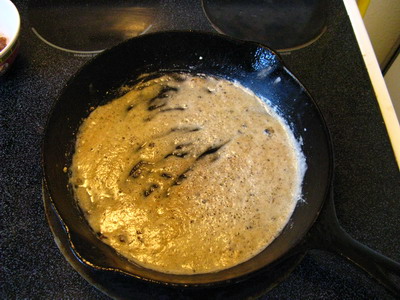 Your flour and fat should be smooth-almost like heated peanut butter. If the flour is dry or sandy, add in more fat little by little. You want a nice, medium-thick roux going.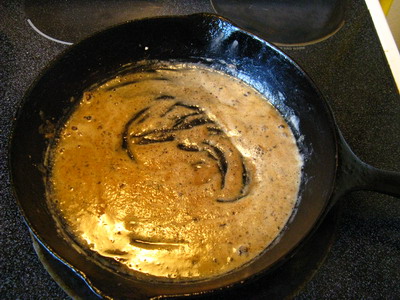 Let it cook until it gets golden brown and kinda nutty smelling. If you want a pure blond gravy (white, like in restaurants) only cook your flour a minute until the raw taste goes out. But I like mine more homestyle-the darker the roux, the deeper the flavor.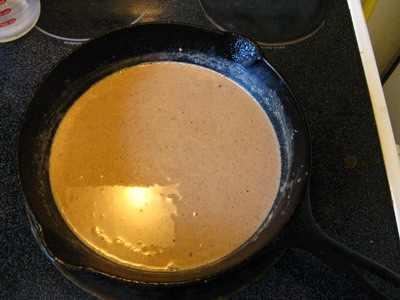 Now, crank the heat to medium and add in 1 cup of whole milk. This is not health food. Don't use low or non-fat--you'll have a runny, weak gravy! Add it in a thin stream and whisk constantly and quickly, less you get lumps. You should have a nice, creamy mixture now-if it seems dry, add in more milk a tablespoon at a time until you get where you want to be. Turn the heat down to very low.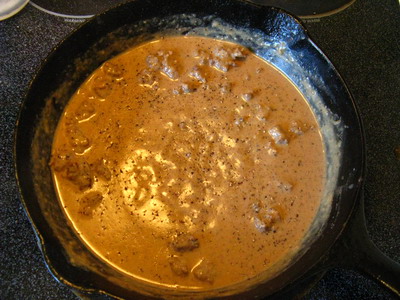 Want to know the secret to really good milk gravy? LOTS of salt and TONS of pepper. For this skillet I probably have a good teaspoon of salt and probably a tablespoon of coarse-cracked pepper. Get that gravy to where it throws heat in your mouth. Taste and re-season. Stir in your sausage bits if you have them, and keep warm over low heat, stirring often. If your gravy gets too thick while you wait for your biscuits to finish, thin it out with a little warm milk.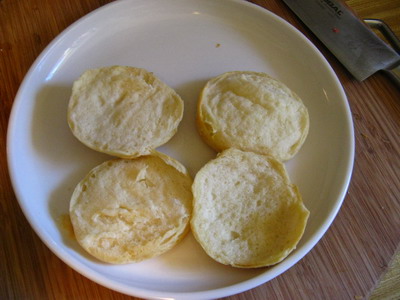 The biscuits are out-split them open.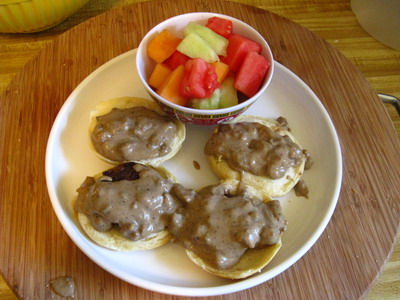 Now lay the sausage patties upon their glorious death beds and smother in gravy. That's how to feed your man proper!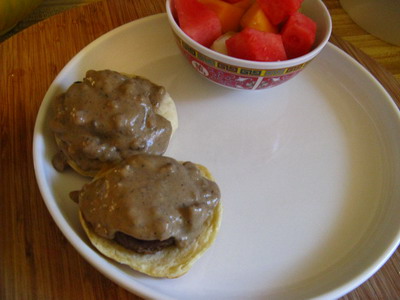 How do I feed myself proper? Oh sure, I have a biscuit with gravy. But then…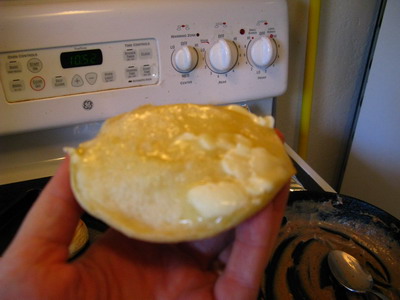 I get a second biscuit and slather it with butter. And I mean slather.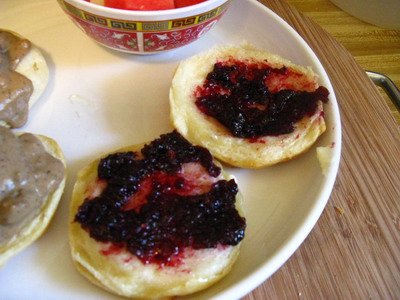 Then I slather it with homemade blackberry jam.
That, son, is how it's done. With style!